Owning and managing forests comes with joy and responsibility. We at Sveden Trä want to make it easier for you as a forest owner and are happy to support you in the management of your forest for the best return for both yourself and the environment. 
We help you with your certification
Our markets are increasingly demanding certified forest products. Certification covers the entire chain from the raw material in the forest, contractors in forestry work and our activities in the industry. Certification is a voluntary effort for all the values of the forest (production, environment and social values) and thus to increase the competitiveness of wood-based products.
With a radius of about 15 miles from the sawmill Rågsveden we buy the timber that forms the basis of Sveden Trä's business. The raw material from the densely populated trees in our area is the first link in the chain of quality that characterizes our business. By hiring us, your raw material stays where it belongs.
We help you manage your forest in the best possible way. 
Read more about how to sell your raw material with us at Sveden Trä.
When you sell your raw material with us at Sveden Trä.
The first contact
After an initial contact with one of our timber buyers, we find out what you want from your forest ownership. Your wishes and our expertise become the basis for the work to be done.
As a forest owner, you always have the final say on what happens on your property.
Contract negotiation
When we agree on the forestry measures to be carried out, we sign an agreement. The agreement regulates the assignment and includes, for example, which measure is to be carried out in which forest area, which form of business and which payment terms apply and within which time frame the measure is to be carried out. Normally, felling contracts are signed for two or three years.
In connection with this step, it is also recommended that you plan your timber payments. If the payment needs to be split over several years, this must be planned in the initial phase. 
Planning of harvesting
If you sell a final felling covering 0.5 hectares or more, you must notify the Swedish Forest Agency at least six weeks before the felling begins. The notification must state which area is intended, what cultural and environmental considerations are planned, and whether the rice will be harvested in the area. Our timber buyers are happy to help with this.
The felling is then planned on the basis of what has been agreed. After the planning is done, a tract directive is made that contains the instructions to the machine group that will carry out the felling. We can now plan the felling with a suitable machine and at a suitable time.
Logging
When it is time for felling, we always contact you to ensure that everything is in order. Then we provide the machine operators with a felling directive stating what we have agreed so that they know what to do.
After felling, the timber is driven forward and placed by the road. There it is marked with a unique number that is linked to you as a forest owner. 
Transportation & surveying
The harvested timber is transported to a measuring station near the sawmill or pulp industry. There, Biometria* carries out an impartial measurement of the timber. During measurement, quality is also classified.
*) Biometria is a member-owned player in the Swedish forestry industry that carries out impartial measurement of the wood that flows between the forest and industry.
Accounting
When all the timber from felling is collected and measured, we make a so-called final report to you as a forest owner. The final report compiles the timber value from all measurement reports and any costs are deducted. Total volumes and revenues, less your costs for the felling, give a summary of the final net to you. Which we pay out according to your wishes.
Reforestation
After a final felling, regeneration measures must be taken in the years following the felling. The most common measures are soil preparation and planting.
If the conditions are right, self-rejuvenation with seed trees is a suitable measure. When we agree on how the reforestation will be carried out, we sign an agreement.
Read more about what's happening at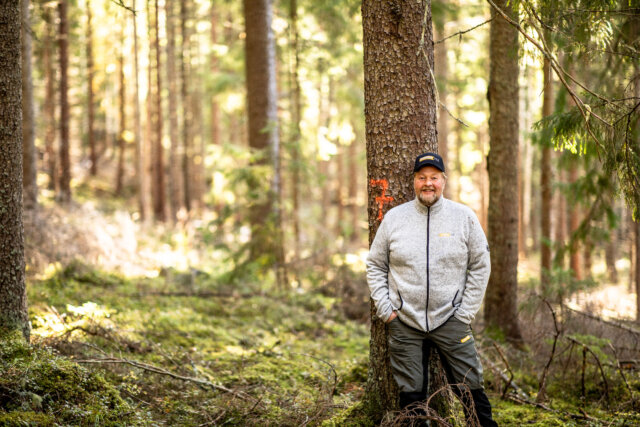 Välkommen till en dag i skogens tecken vid sågverket i Rågsveden, Äppelbo. Kom och prata skog och allt som hör till med oss och några
We help you with your forest
The forestry department provides advice and service on everything that happens in your forest. Whether it's about harvesting, certification or financial advice, you can feel safe with us. We live and work where your forest is, so we know how to take care of it in the best possible way.